Day 8: Colorado National Monument to Black Canyon of the Gunnison
It was another warm morning at Colorado National Monument, 77 F at 6:30am! I enjoyed the sunrise from Otto's Trail.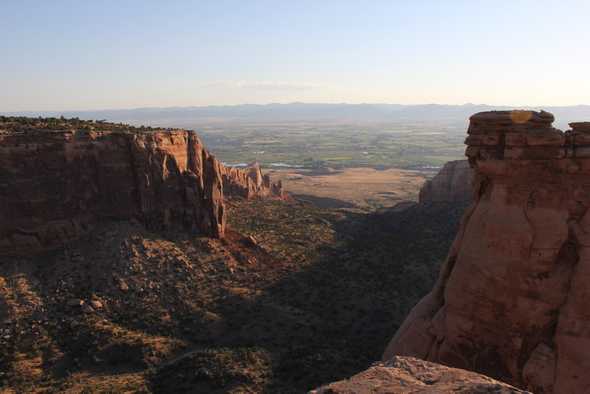 Here's a closer look at the top of Independence Monument, and the flag.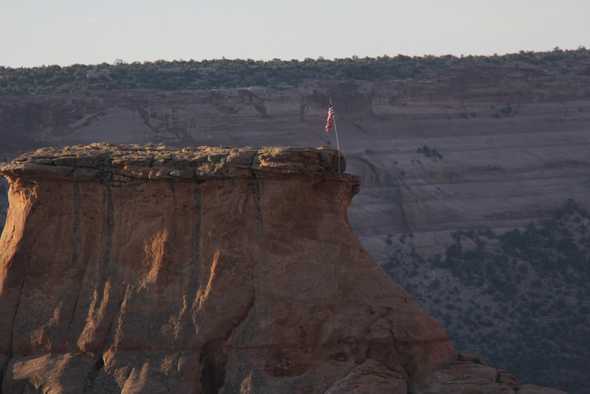 Not surprisingly, the view from Cold Shivers Point was also very nice.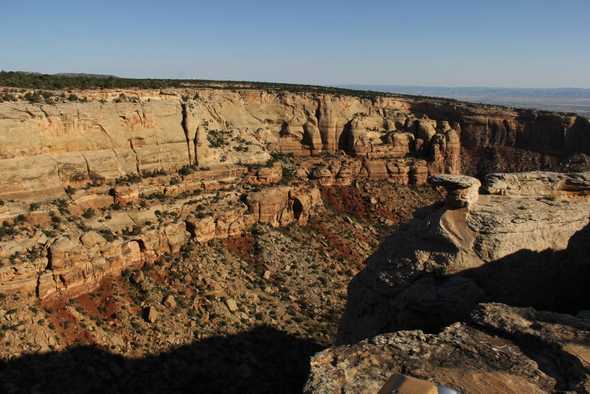 The southern end of the park presented a colorful reflection of the early morning sunlight, and probably a nice hike as well. My visit was definitely too short. Maybe next time.
I drove down 50 to Black Canyon of the Gunnison National Park.
It is said to be the Grand Canyon of Colorado, and is somewhat of a hidden gem. It has some really nice views of the dark colored canyon walls.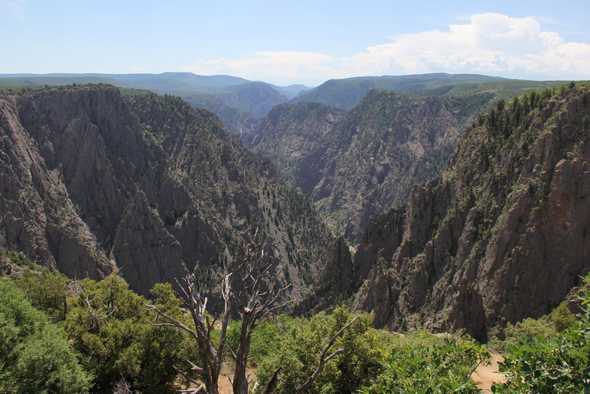 At Pulpit Rock overlook, the Gunnison River can be seen far below.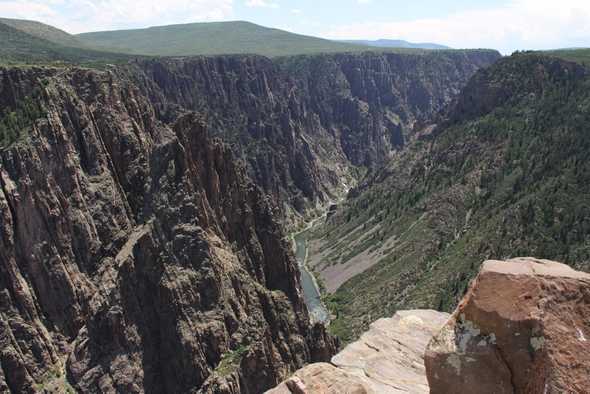 The drive down to the East Portal part of the park is worth it through. The winding road is not for the faint hearted. I can't imagine what early visitors felt with a steep sloped, unpaved road.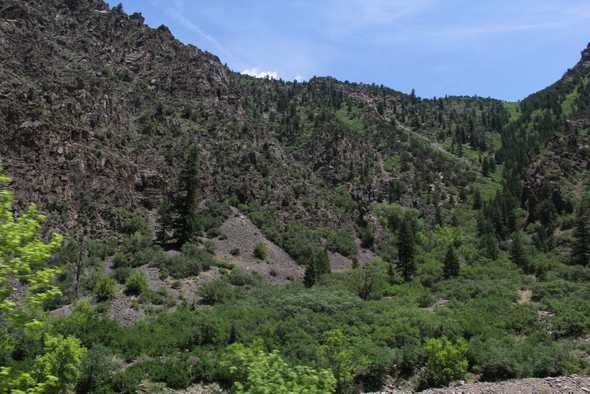 At the end of the road is a closed gate. Beyond the gate is Crystal Dam, a 227 feet tall dam. It is one of three nearby dams on the Gunnison River. It is capable of releasing 42,000 cubic feet of water per second, and has one power generating unit with a 31,000-kilowatt capacity! The three dams are part of the Wayne N. Aspinall Unit of the Colorado River Storage Project. Morrow Point and Blue Mesa Dams are upstream.
I sat at a picnic table and enjoyed the view as I ate lunch.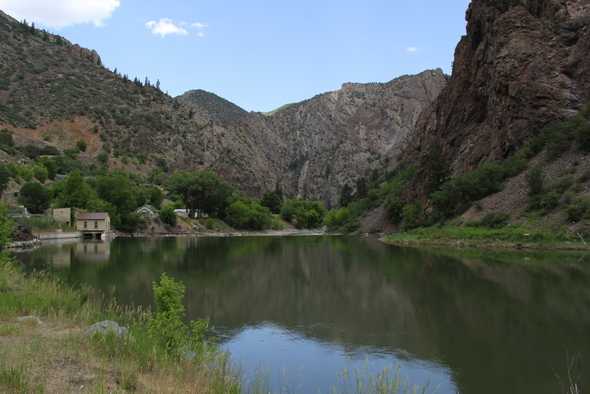 Ranger Tom Wardlaw had a program at 2:30 about building the Gunnison tunnel, a 5.8 mile underground tunnel that diverted some of the water from the Gunnsion River to the nearby Uncompahgre Valley. It was a fascinating look at how engineering was a hundred years ago and what people will do to get water to their communities and farms.
I spent the rest of the afternoon enjoying the river. Downstream, fishing was a pretty popular activity this afternoon.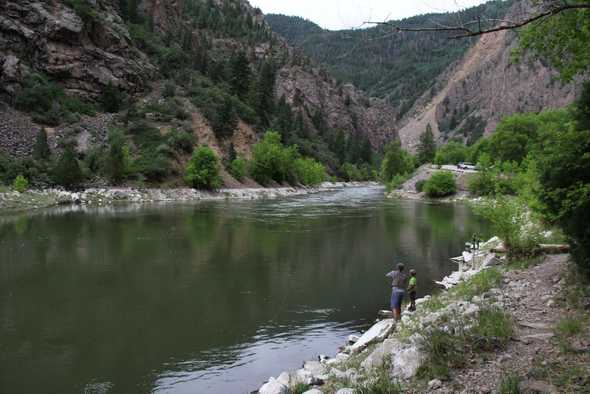 But the weather turned pretty quickly and an afternoon thunderstorm passed overhead. Fortunately, the picnic area was sheltered.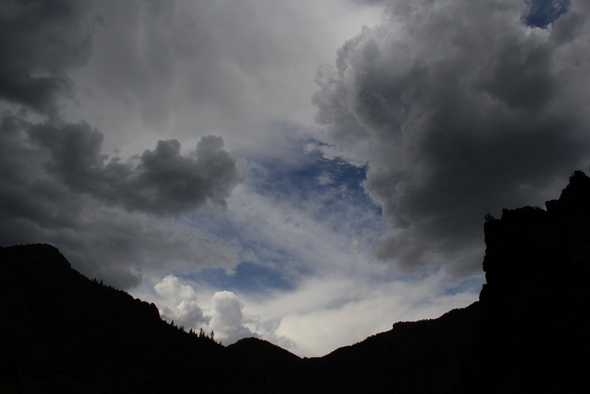 Back at the top of the canyon, the evening program was moved inside the visitor center. We got to learn about the different animals in the park with skulls and scat from each one. Apparently the Mountain Lion is the near the top of the food chain. Afterwards, I enjoyed an amazing sunset.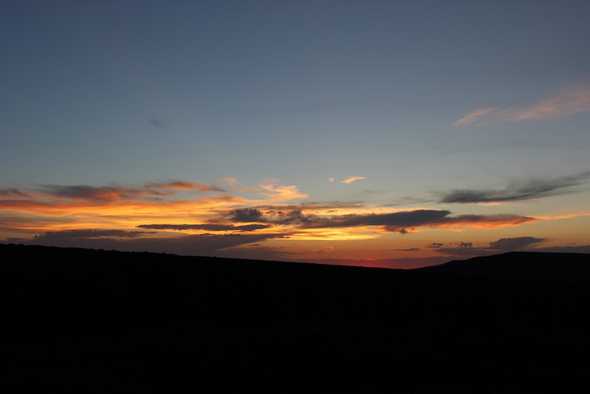 I guess there's a reason the tent has a rain cover. It's gonna be a wet night. Opps.
---