SecondGov at Collective's Hackdance hackathon
This past weekend I was invited to the Collective's DisruptFilm Summit in Park City, Utah. The Collective hosted the firstever hackathon concurrent with the Sundance Film Festival. When I heard about this opportunity to hack and to visit beautiful Utah in the middle of winter, I couldn't resist. And it gets even better.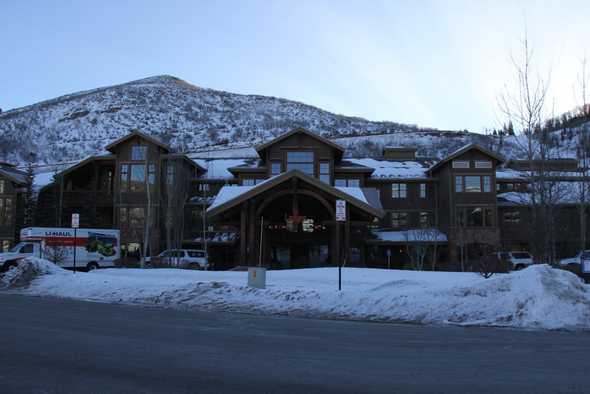 The mission of this hackathon was different from the ones I have attended back here in the Bay Area. This hackathon, named Hackdance, brought together celebrities from the film industry with entrepreneurs from the tech industry. My team was led by Alex Ebert, Golden Globe winner for Best Original Score for All Is Lost soundtrack.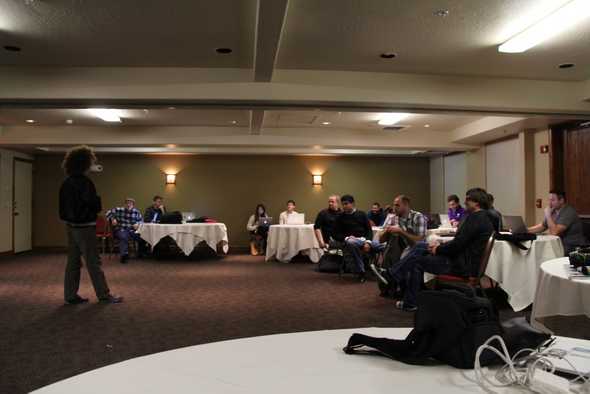 What was unexpected and pretty awesome in the end is that the two industries aren't fully connected, but connected in a way. Each of us were inspired at what the other has accomplished, appreciating how each of us has gotten to where we are. At the end of the hackathon, Alex was very happy that a concept was now a reality with a rockstar team. And we're in awe that we were connected to a guy who won a Golden Globe for his passion of music. That connection by itself is pretty neat!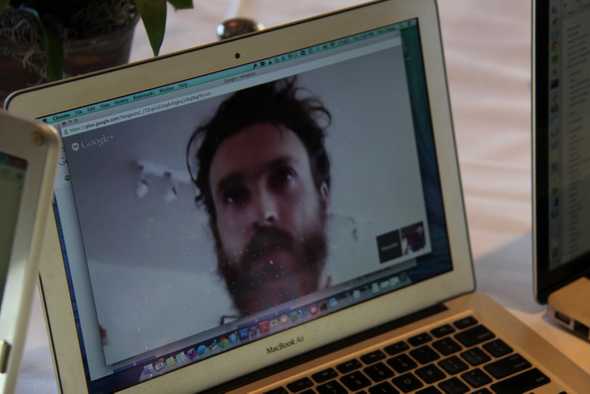 The Hackathon
The hackathon started on Thursday afternoon. Each celebrity team leader brought an idea of a social impact app they were passionate about. The hackers, which totaled less than thirty, speed-dated the ideas pitched and chose a team they wanted to be part of. In the end, there were a total of seven teams.
With an endless supply of snacks, food, and drinks, we got to work on the concept of what SecondGov would look like.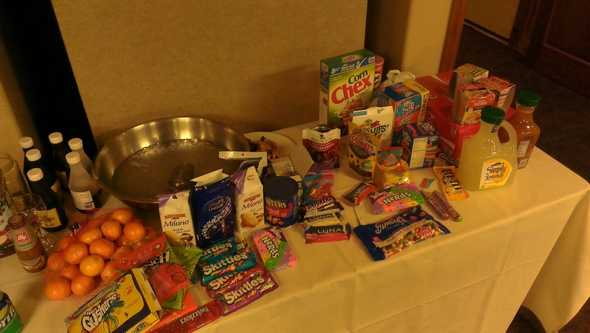 Our team included Adarsh Uppula and myself, both web/mobile developers and serial hackathon winners, Dru Clegg, a designer and program analyst, and Kyle Clegg, an iOS developer.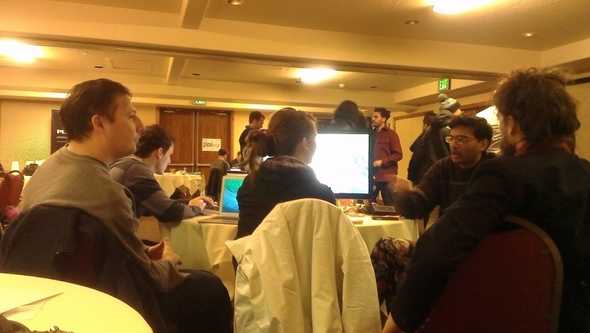 SecondGov
Given the end goal of wanting a virtual government that would reduce the bureaucracy that impairs the real government while giving each individual a voice and opportunity to participate in real democracy, our team started brainstorming what an app would look like that could solve this problem.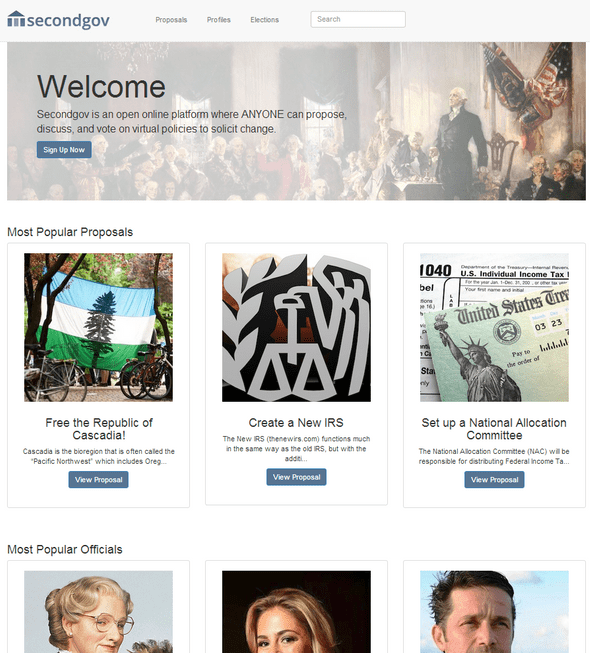 We went to work designing a way to propose new policies that anyone could easily contribute to. Democracy is only as strong as the voices being heard. But the problem is, anything can be proposed. So an up/down voting system filters good and bad ideas respectively. You can also comment on each policy, creating an open dialogue for all to join.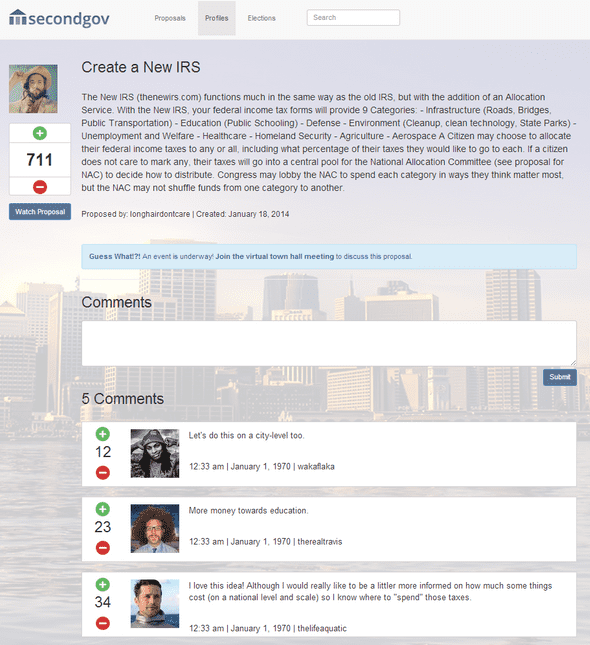 As we continued working though this concept, we were approached by mentors and people who have built products. One is called VIEW (Virtual Immersive Educational World). It is an online virtual world where anything can happen. They have a classroom where teachers have met with others to conduct a class.
We decided this would be a great place for a virtual townhall meeting on issues that matter to a lot of people. So we added a townhall meeting feature to SecondGov.
Another part of a virtual government is voting. We wanted to have an easy to use voting system, so I worked on an SMS system where you can SMS your vote. We used Tropo, a really easy voice and text API service. In a matter of seconds, our app was registered and assigned a phone number. Using their API, I specified a web endpoint where each message is sent. Each vote is processed through a PHP script.
The other side of elections is showing the votes. I built a simple webpage using Bootstrap showing two bars. Each vote counted moves the bar to the right. Using PubNub, the SMS votes are converted into notifications from the server and sent to the webpage which receives each event and updates the bar.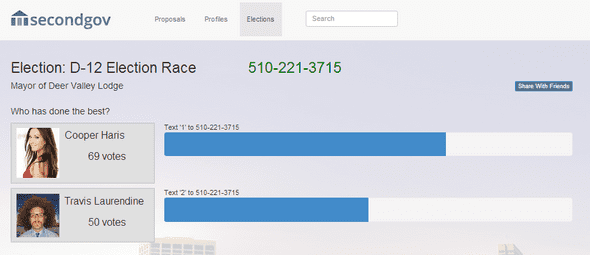 Using Bootstrap, Tropo and PubNub, we had a good looking voting system up and running in very little time.
We were also approached by Plantronics. They have a bluetooth headset that has an accelerometer built in. Kyle worked on a voting mechanism where you can vote by nodding your head up and down for yes, or side to side for a no.
The Pitch
After an exhausting 48 hours, it was time to pitch.
We had connected all the complicated stuff we had built into a cohesive story solving a real world problem. Murphy's law could have had a lot of fun. Here's a video of the pitch.
Awards
There were two separate tracks, a Social Impact track and an Innovation track. SecondGov won the grand prize for the Innovation track. Our team was pretty excited to be on stage in front of members of the Collective.
Epilogue
This was one of the most exciting hackathons I've been to. It was hosted at the Lodges at Deer Valley, surrounded by snow covered hills. It was led by celebrities. It was in the middle of the Sundance Film Festival where anyone interested in film could indulge themselves. And the cause we were hacking for is one that can actually happen. The idea isn't an academic exercise but one that can be reality in a virtual sense.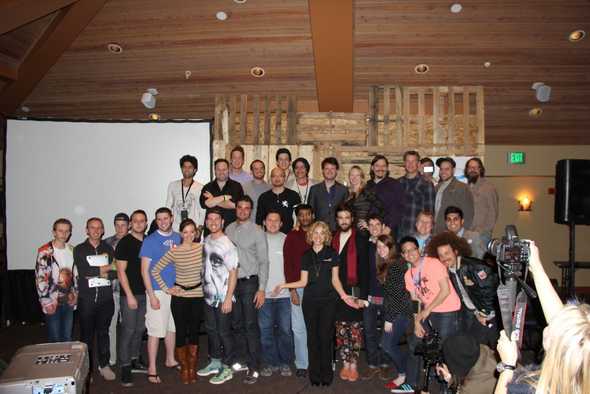 ---